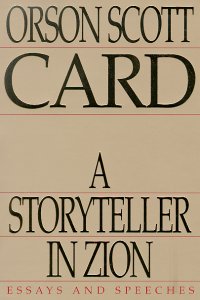 I waited way too long to read this remarkable collection of thought and counsel. I have long loved Card's fiction, in fact
Ender's Game
is my all time favorite Sci-Fi novel. I hadn't begun to give Card the attention I'm now persuaded he deserves. I always stayed away from Sunstone and Dialogue magazines because they had a reputation for seeking to correct the church. I remember when Booklogged read this I thumbed through it and saw that some of the essays were written for one or the other of those publications. I guess I judged Orson by the company he kept. Ironic, since his articles republished in this volume were written to take critical writers in Sunstone and Dialogue to task. I ignored Card until one day I heard that he'd turned up on Rush Limbaugh. Rush Limbaugh? No kidding. I knew Orson was a dyed in the wool Democrat and the seeming incongruity was irresistible. I'm no Democrat. I'm no fan of Rush Limbaugh either. In fact more recently I can also declare that I'm no Republican either. I went to Limbaugh's web site and found
the circumstances
. I was one up on Rush, at least I'd heard of Orson Scott Card. If you followed the link you've discovered that Rush was thrilled with a newspaper piece Card had written. He was clearly astonished by his honesty, candor and clarity of thought. That is exactly what I love about this book!
I haven't read a book that opened my eyes to new possibilities like this one in a long long time. It was published in 1993. How I'd have benefited had I read it 17 years ago. Card is clearly a well trained intellectual and his work is thought completely through. His discourse on art, Zion, homosexuality, relationships and more is truly brilliant. I recommend every Latter-day Saint read his work. You'll get a clearer view of who we are and what we mean. If you don't find his separation of substance from fluff as refreshing as I did, I'll be truly surprised. Never has anyone spoken my language more eloquently. While I have examined many of the concepts and principles Card elucidates, I certainly have not thought them through to the magnificent, eloquent conclusions he arrived at.
I haven't read another LDS writer whose loyalty to the Church was more apparent, nor whose gift for making perfect sense of it's teachings more exalting. Church members on both the left and right of today's political spectrum would do well to clarify their positions through the lens of Card's honesty. Get it. Study it.
Five Stars